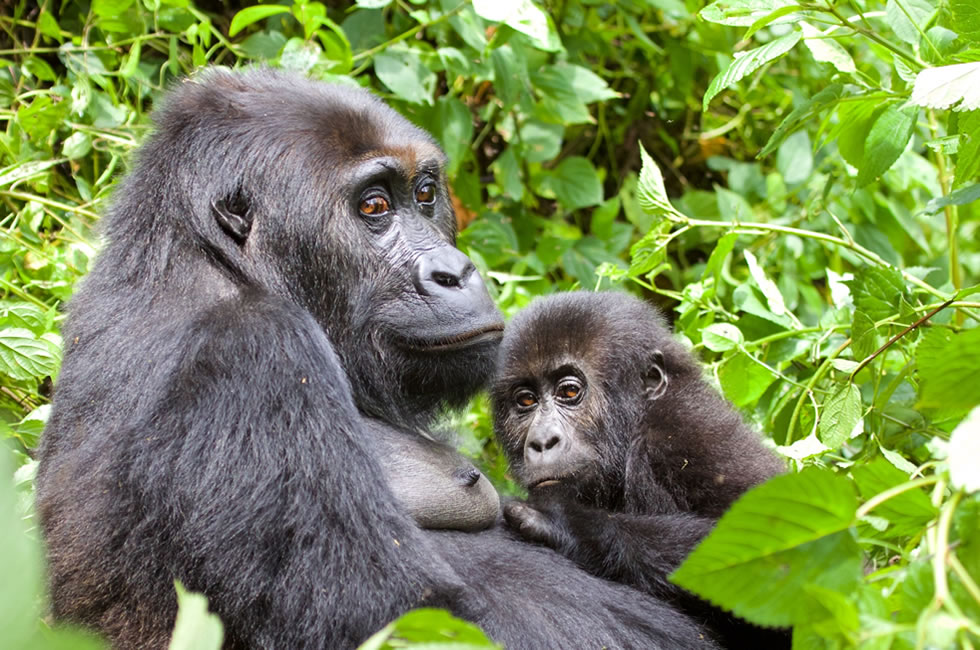 Guide to Budget Gorilla Trekking in DR Congo
Budget gorilla trekking within the Democratic Republic of Congo is a wonderful chance of seeing two distinct gorilla sub-species (Eastern lowland and mountain gorillas), to tell their differences. These trips lead travelers to Kahuzi-Biega National Park for lowland gorilla trekking as well as Virunga National Park for mountain gorilla trekking.
Best budget gorilla trekking tours in Virunga National Park
Typical budget gorilla trekking tours in Virunga National Park, the oldest Park in Africa introduce travelers to some of the giant Ape groups found here. So far, 8 habituated groups are open for travelers – Mapuwa, Lulengo, Kabirizi, Humba, Kabirizi, Bageni, Munyaga, and Nyakamwe. Daily treks begin at Bukima Ranger Post with a briefing on the dos and don'ts of gorilla trekking adventures, then placement into the group with whom you will spend some wonderful time observing and photographing. Be prepared for 1-5 hours of trekking then one hour of interaction.
When it comes to accommodation options, the midrange Bukima Tented Camp and Kibumba Tented Camp as well as Tchegera Island Camp are some of the places preferred by budget gorilla trekkers in this magnificent Protected Area.
Budget gorilla trekking in Kahuzi-Biega National Park
Budget gorilla trekking tours in Kahuzi-Biega National Park are conducted for the incredible Eastern lowland gorillas, the largest gorilla sub-species only found in this country. The 6000-square kilometer Park shelters a number of lowland gorilla groups but 5 are fully habituated for trekking – Nganwa, Moungwe, Bonnani, Mugaruka, and Chimanuka. Budget places of lodging by visitors here are Orchids' Safari Club, Coco Lodge Bukavu, and so many others.
Securing gorilla permits for budget gorilla trekking in the Democratic Republic of Congo
If the price of gorilla permits are to go by, the Democratic Republic of Congo is the best destination for budget gorilla trekking, costing $400 per person and can be secured via the ICCN Head offices in Bukavu or Goma Town.
Best time for budget gorilla trekking tours
Budget gorilla trekking within Uganda and the Democratic Republic of Congo are enjoyed throughout the year but the high season is June to September or December to February when demand for gorilla permits is high. These months are the busiest because most travelers are drawn to the drier hiking trails and more accessible park roads attributed to the little or total absence of rains.
Regardless of the season, travelers have to pack lightweight rain jackets, sturdy hiking boots, long-sleeved shirts, long safari pants, a good camera, safari hat, snacks, water bottles, binoculars, sunglasses, gardening gloves, and many others.
Related Posts