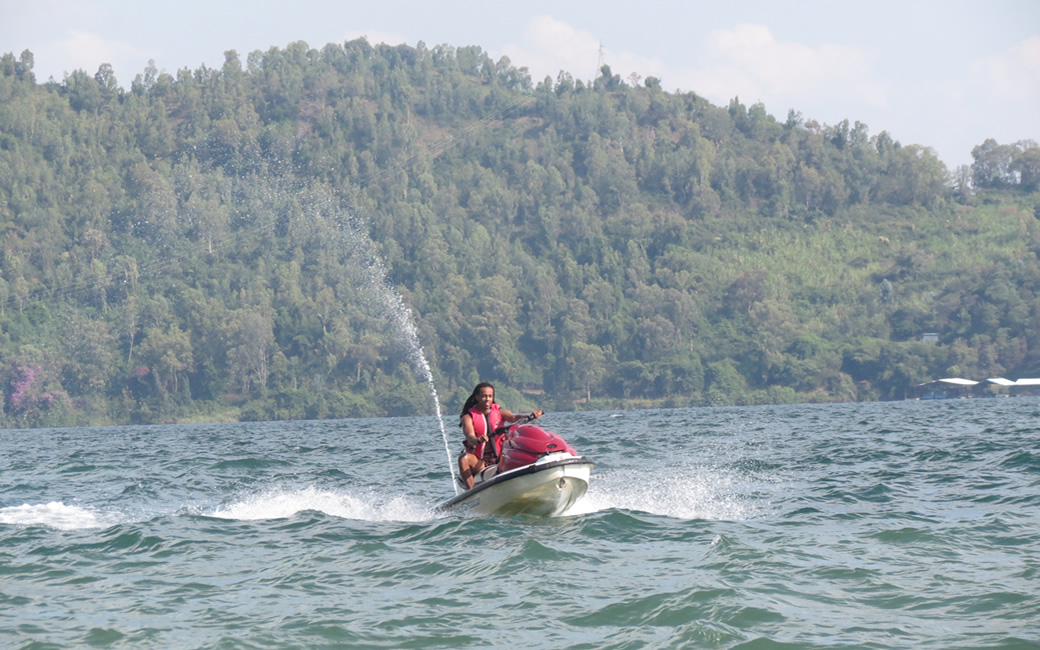 Experience Congo Gorillas & Lake Kivu
Congo is found in Central Africa and is under the president called Joseph Kabila. Though gorilla trekking in Congo is not at a high level, there are a few places where gorilla trek can be practiced in.
One of the most famous places for gorilla trekking in Congo is the Virunga national park. The park stretches from the Virunga Mountains in the South to the Rwenzori Mountains in the North and it was the first established national park in Africa in 1925.
For anyone to go gorilla trekking while in Congo, the best place should be Virunga national park. Gorilla trekking tours in Virunga national park is more enjoyable when you travel with us but if it comes that you are from far or even when you are in Congo yet you want a safari, you don't have to worry for there are the best companies in Africa Nature Adventure Africa Safaris which will provide you with cars on agreed price between you and them.
This company ranked one of the best companies in Africa due to its best services to tourists who explore Africa.
To book a safari  
You will need to talk to each other and you both agree before you are given a vehicle. You will talk to the company consultant Moses who will tell you the rules and regulations you will need to follow before you go on safari and some of the rules include:
The vehicle will be inspected before you take it in that to ensure that you enjoy the safari.
After agreeing with your safari consultant, you will need to pay at least a 30% booking fee in order for you to secure your booking simply because the company is ever busy and the balance is paid on your arrival. The company also offers trained driver guides who will offer you the best information about the tourist destination.
After securing your tour, they will also book for you the best places you can stay before and after gorilla trekking. One of the best places around the Virunga National Park is the Mikeno Lodge which is found in the center of Virunga with spectacular views of the forest, Nyiragongo, and the Mikeno volcanoes. The lodge is one of the best places to stay in while in Congo but there are also other places you can stay during your gorilla trekking in Virunga National Park such as Lulimbi Tented Camp, Bukima Tented Camp, Tchegera Island Tented Camp, and Nyiragongo Volcano Summit Shelter plus many more but all these will be organized for you even when you are still in your homeland whereby by your arrival after when you have completed all your bills, they will just take you to the place where you will rest from.
The following day you will then wake up take a bath or brush your teeth and take your breakfast which is offered to you in one of the lodges you will be in, and after you will depart to the park where you will be given well-trained park guides to help you through the gorilla trekking activity.
Gorilla trekking is one of the most enjoyable activities to practice while in the park but this activity takes place very early in the morning when the gorillas have just woken up being trekking of gorillas in the morning the easiest way of seeing gorillas.
Gorillas are seen from a certain distance like at least 8m away from them to prevent inconveniences like gorillas can get some air diseases of humans and this is why they are viewed from a certain distance. After your gorilla trekking, you will then go back to your lodge and take a rest.
After the gorilla trekking in Congo, you can also extend your tour and take a holiday at Lake Kivu where you will enjoy many things from there and even learn more. You will find local fishermen at the lake when some are even fishing and in terms of enjoyment, you can also get hooks from the anglers and you also start fishing though it is very difficult for an inexperienced person to get even a single fish. By any chance of getting a fish, some of the species caught include tilapia, Nile perch, and so many other species.
You will learn many things which are done from the Lake such as methane extraction which takes place at Lake Kivu.
You will also be able to see the 10th largest island in the whole world (Idjwi) which is also found on that particular Lake (Lake Kivu). The Lake lies on the border between Rwanda and Congo and is also in the Albertine Rift Valley. It empties into River Ruzizi.
Therefore, while in Congo for gorilla trekking, you are advised to prolong your holiday at Lake Kivu where you will get involved in many activities such as boat drives, fishing, and bird watching among others.
Related Posts